Every Monday (with some exceptions) I will post books coming out this week. If you have a book coming out and would like me to mention it during its release week, please click here for more details.
Description: November 22nd, 1963 was a rapid-fire sequence of indelible moments: Shots ring out; a president slumped over; a race to the Dallas hospital; an announcement, blood still fresh on the First Lady's dress. But what if President John F. Kennedy didn't have to die; if somehow his assassin could have been thwarted? For Maine schoolteacher Jake Epping, those hypothetical what if's become real possibilities when he walks through a portal to the past. Without special skills and still unfamiliar with his new/old surroundings, he struggles to discover a way to change the history he left. Like its Under the Dome predecessor, Stephen King's 960-page novel shows that this master of suspense is back at the top of his game.
Publisher: Knopf Books for Young Readers
Description: Not so very long ago, Eragon—Shadeslayer, Dragon Rider—was nothing more than a poor farm boy, and his dragon, Saphira, only a blue stone in the forest. Now the fate of an entire civilization rests on their shoulders.
Long months of training and battle have brought victories and hope, but they have also brought heartbreaking loss. And still, the real battle lies ahead: they must confront Galbatorix. When they do, they will have to be strong enough to defeat him. And if they cannot, no one can. There will be no second chances.
The Rider and his dragon have come further than anyone dared to hope. But can they topple the evil king and restore justice to Alagaësia? And if so, at what cost?
This is the much-anticipated, astonishing conclusion to the worldwide bestselling Inheritance cycle.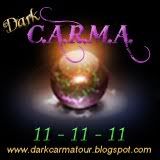 Release Date: November 11
Description: Sixteen-year old Desolation Black wants nothing more than to stay in Hell where it's cold and lonely and totally predictable. Instead, she's sent back to Earth where she must face the evil she despises and the good she always feared.
When Desi is forced to embrace her inner demon, she assumes her choice has been made—that she has no hope of being anything other than what her father, Lucifer, has created her to be. What she doesn't count on, is finding a reason to change—something she's never had before—a friend.
Release Date: November 11
Publisher: Dragonfly Press
Description: When a photo shoot ends in tragedy, Kira discovers her best friend, Lydia, has been keeping a secret. Knowing the truth, and accepting it, will change Kira's life forever and thrust her into a world of ancient curses, magical objects, and savage enemies. What happens next will challenge everything Kira knows about her world, herself and the shape-shifting warrior she's falling in love with. No longer the timid mouse her mother accused her of being, but a woman who finds the mental and physical strength to endure and survive.
BOUND is a heroic tale of true friendship, infinite sacrifice and untamed love.
Release Date: November 11
Publisher: Polished Pen Press
Description: Stubborn, sixteen-year-old Princess Venus of Kelari wants one thing, to become a kelvieri, that is, until someone exiles her to Earth, kills her irrihunter and takes her family.Now she wants revenge.
First she's got to get home. But before she can return to Kelari, the Gods have commanded her to help an arrogant boy named Justus find his soul mate.Only she doesn't know the first thing about love.
Rather quickly, her inexperience with human emotion is obscured by other matters—alien-controlled psychotic teens that are out to kill her, and a government group that is set on capturing and dissecting her.
Worst of all, Venus will suffer a painful death-by-poisoning, thanks to Earth's atmosphere, if she remains on the planet longer than one week.Still, Venus is a Princess and she's got a plan. Surely, with her help, Justus will fall in love with a human.
But time is running out and Justus is falling for the wrong girl—her.
Have you or will you read any of these books?